> Turn around, pull your hair out of your eyes and look through the window and into the courtyard! And if that doesn't do anything, open the door!
She wants to run. Even the courtyard with the TV, and the wires, and strange dead air was better then this whirlwind.

> Go and comfort Piotr.

> Make sure Piotr is with you.

>Hug Piotr to shield the poor dog
But she's not leaving the dog.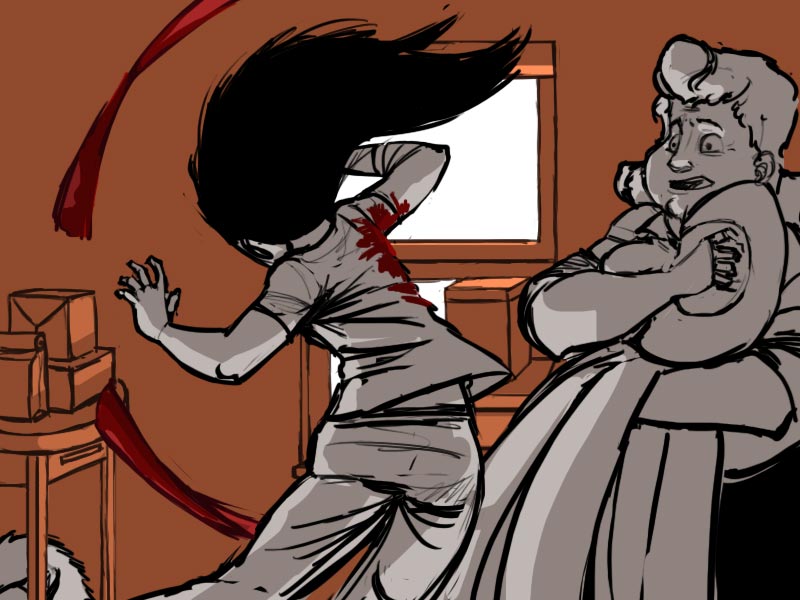 Bina lurches across the room toward Piotr, wind buffeting her almost off her feet. The woman, Josephine, clearly frightened, and
angry
about being frightened, yells something at her that she can barely hear. It doesn't matter. Her meaning is clear enough.
What is
HAPPENING
?
Bina wishes that she knew.
Her ears pop, then pop again, like on an airplane. An airplane with no engines, dropping like a stone.
Through the flailing strands of her hair she sees something else, whirling, held aloft by the unnatural storm.
Her grandmothers scarf. It feels the wind too.
Notes

Is… is this fanart? I think it counts as fanart?
Of course it counts as fanart!