If we can understand and speak French:
>Tell her that she wouldn't believe you if you told her.
Bina can speak french fairly well. Not GREAT, but well enough to read a newspaper or work in a restaurant in a city full of french speakers.

>Tell her that she wouldn't believe you if you told her.

>Tell a far-fetched story about a freak beet accident. Get emotional, then pass out - or at least fall down, for dramatic effect.

Bina: Realize that attempting to explain this to her might end up with her disbeliving you. Tell her that you had fallen and gashed your arm on a couple of spikes(?).

> "I was stabbed through the hand and now I am in need of nourishment to replenish my internal bodily fluids. Piotr is not my dog… At least, I think?"
A ton of possible options rush through her mind.
This woman doesn't seem in the know about the whole TV-What-Eats-You, and talking about laundromats and skeleton dogs might make her think she's crazy.
She tries to start with the old classic of "Hold on, I can explain everything" when she realizes, slightly too late, that her mouth is still full of tangerine.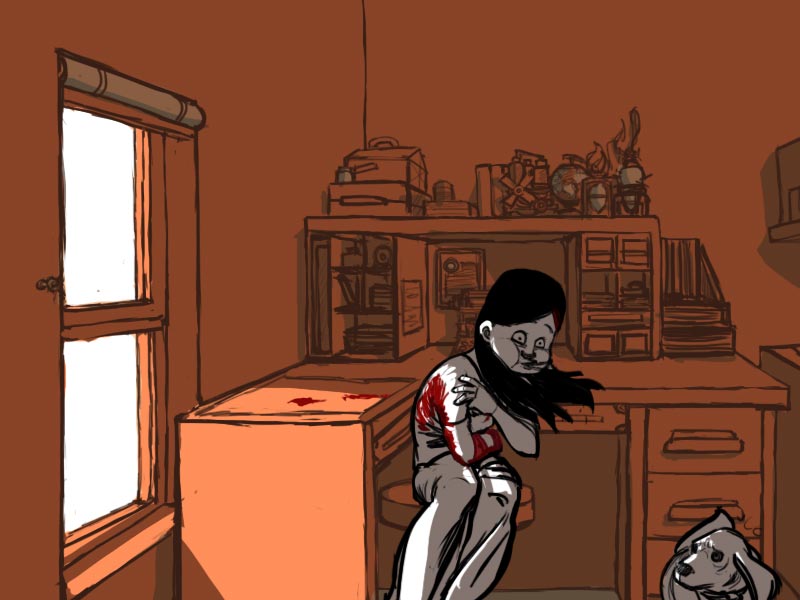 She promptly almost chokes to death.
Hurray! First impressions! She is making them.
She swallows the rest of the tangerine.

NO REGRETS TANGERINE WAS WORTH IT
Despite what just happened, Bina agrees entirely.
Notes
337 images, and this is my first spit-take…