Why didn't she know about this story?
I
really
didn't want to answer Lash.
'Cause me and Sam had agreed never to tell anyone about it. And 'cause it was embarrassing. And 'cause if we told ANYONE then they'd tell someone, and they'd tell someone, and then our parents would find out and that was NOT OK.
And 'cause I really liked Lash, and I really,
really
, didn't want her to think I was a bad person, or dumb, or gullible, or anything else. I wanted her to think I was cool, and pretty, and smart, and -
And 'cause I'd PROMISED Sam I wouldn't tell!
And I keep
my
promises.
"Err…"

> Yo Bina, maybe you should let Sam know she's being out of line here. If it's something you're super not comfortable talking about her forcing the issue is kinda ick.
It was! It was
super
ick!
We hadn't told
anyone
about this for like
almost
two
years
and now she just TELLS?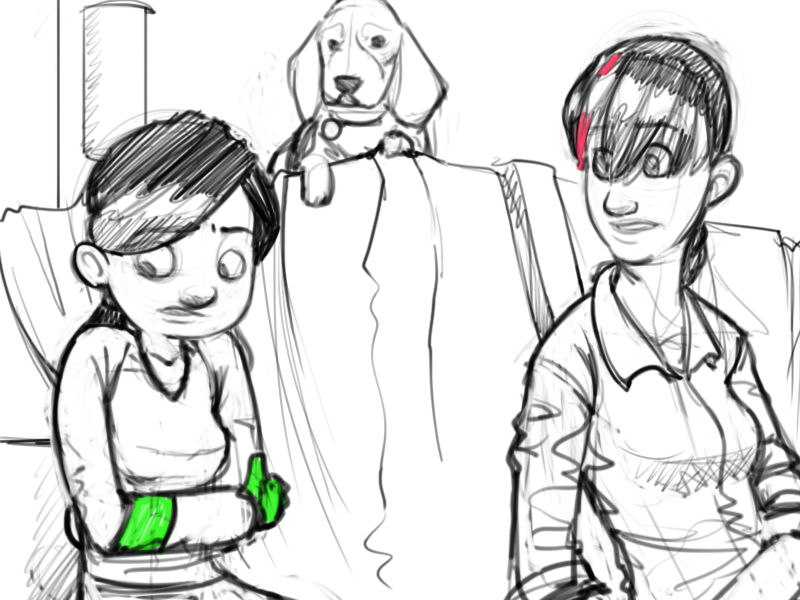 "Um, if you don't want to tell me i- "
"I don't really - "
"Oh come ON you two, it's hilarious."
It wasn't.
It was mostly sort of awful, and scary, and stupid, and Sam hadn't even seen the bad bits, or the parts with the police.
"Sam, I -"
"So last year, at summer camp, we were in the same cabin and -"
"Sam!"
"What?"
said Sam,
"Do you want to tell story?"
"No…"
But I didn't want
her
telling it either.
"OK then,"
she said.
"So, two years ago, at summer camp, we were in the same cabin, right? That's when Bina and I met."
"I know that part,"
said Lash, holding out her wrists.
"Hey Bina, can you show me how to do the paperclip thing again?"
"Yeah, ok."
"Right, yeah, so the first night there, after we've had dinner they sent us off to like, set up our beds and stuff, and they build this big bonfire. They do the bonfire like, three times over the week, but the first night is special. They call it something goofy like the 'Friendship Fire' or -"
[size=10]"Fellowship Fire…"[/size]
"Or the Fellowship Fire, or whatever. Anyway, it's this big fire, and they get all the campers to sit around it and, you know, roast marshmallows and stuff. Some of the councilors sing some deeply terrible music and we play some 'games' too. I'm thinking that maybe I can just like, slip away back to my cabin, but by then, it's getting dark, and they start with the fun stuff."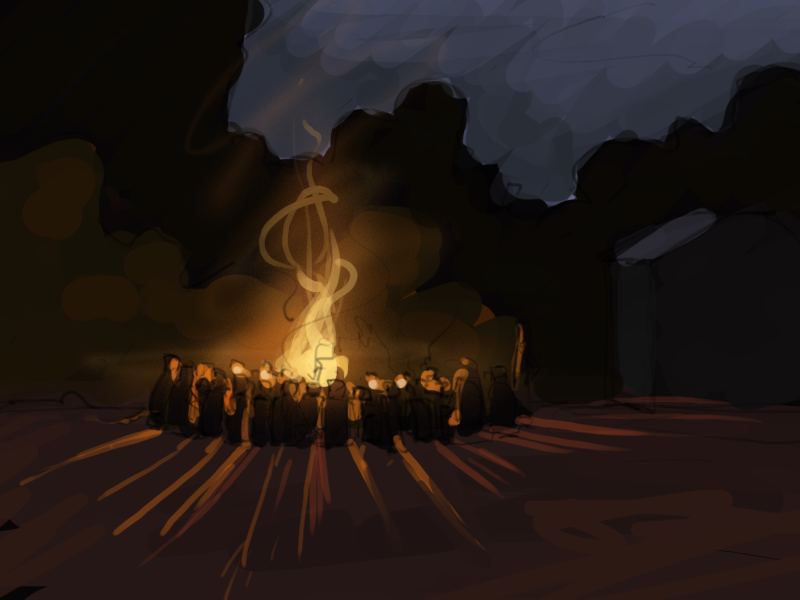 I do not feel good about this.
"Which was ghost stories."
Notes

>Regale to her the tale of Bina "Mouse Hands" … Uhh, er, do we know Bina's last name? I can't think of it. :(
We do! [post=7299814]It's Miryala.[/post]