"Hey!" says Bina. "Hey come here."
"I'm ok!"
"Kendra, no, here. Come on. No - you better hug me or
I'm
goinna' start crying and
then
where will we be?"
Bina manages to get Kendra turned towards her and then, without warning, the bigger woman throws her arms around her, buries her face in her shoulder, and starts to sob.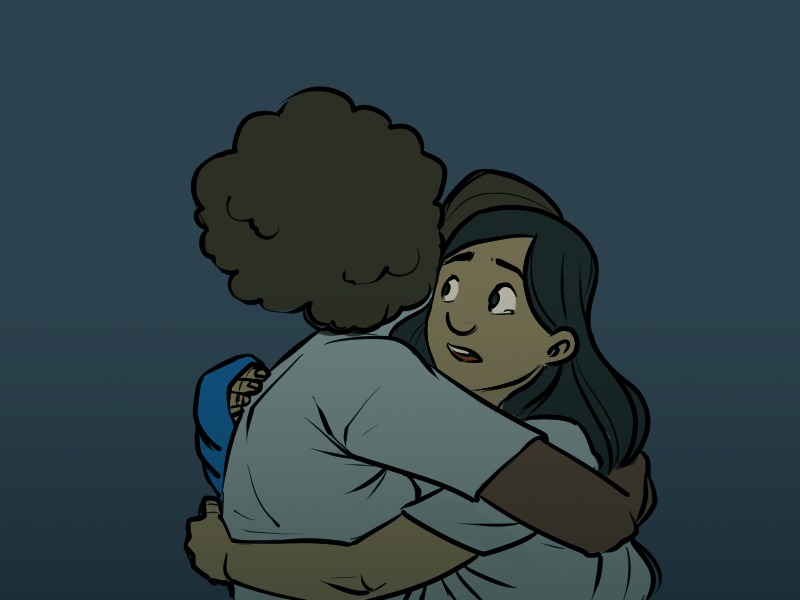 "Hey! There we go, it's going to be OK. All right? It's going to be OK."
"I don't know why I'm crying!"
Bina wonders when it was that Kendra managed to get to sleep. Real sleep, the restful kind.
"That's OK too! You don't have to know why, all right?"
Kendra says nothing to that, but as long as she's not turning away anymore Bina doesn't mind.
"Sometimes things are just - you know? And then it's sad. It just happens, all right? It's going to be OK, and Elizabeth is going to be OK, and we're all going to be OK? OK? You don't have to worry."
Kendra mumbles something inaudible as Bina strokes her back, up and down.
"We're all going to be OK."
They stay there like that, for a time.
Notes

I found this webcomic by clicking on someone's disqus profile (I forget whose, it's been a little while.) and I thought I'd check it out. I've found that it's a good way to find great webcomics I might not know about, like this one! As for advertising…I'm not sure. Maybe you could try one of those webcomic networks, like Hiveworks? I'm no expert on that sort of thing, though…
You found us through Discus? Wow… I hadn't even considered that might be a thing.
I've looked at advertising through Hiveworks, they have a really cool network and it looks like it would be a good match, but their minimum buy is $1000, which is a bit steep for someone just dipping their toes into the whole 'trying to advertise' thing.

A friend linked it on facebook. I've then told two others about it.

If you want publicity, project wonderful's not bad. My company tried to use it for ad revenue, though, and we made like 1/4th what we were making with Google's advertising solution, so don't just take it because it's the go-to solution for webcomics.
I did not know this had really gotten around onto Facebook yet, and thank you for sharing it, that was really cool of you.
I checked out Project Wonderful, and you're right, it's really inexpensive. That's great for me, who wants to
buy
ads, but it looks like you really need an enormous number of viewers to demand much in the way of compensation if you're displaying them.
Thank you for the suggestion. I think it might work out.

Found it originally in the MSPAforums in the fan adventures section. The title "All Night Laundry" stuck out to me.
Thanks Unclever Title! I am always happy when people like the title.
Urgh… I miss the forums. So much missing history.